Blog
Women's Fall Fashion 2017
Summer is almost over, so kiss your wrap dresses goodnight (for now) and see what's on fall's menu. The leaves may not be changing where you live, but the fashion is. Let's see what's coming down the runway from the conservative to the expressive to the future.
Work & Play
Let's get down to business – in some sharp pantsuits. That's right all you fashion-forward business women, pantsuits are in style.
It can't all be business, though. The athleisure trend continues on into the breezier months helping you find style while you sweat (or do anything else). The skier-aesthetic is taking the place of lighter zip-up styles just in time for the new season.
New Americana
You might think of spring with the popularity of traditional floral prints – specifically roses – but they're getting a little moodier for fall. The deep, natural colors – red in particular – keep the palette grounded amid the age-old flower motifs.
If you're looking for more of a classic edge, shear collars with leather are an American tradition that are making a return. Think fur-lined bomber jackets – old-school cool.
American flag attire is making a surprise comeback too as colored accents and full-fledged symbols. Your stars and stripes aren't just for the Fourth of July this year.
Animalistic Attire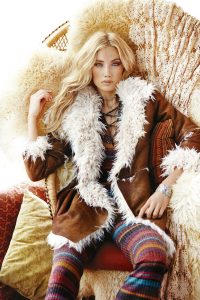 Looking for your savage side? Burgundy is the color of the season and may speak to the more visceral fashion we're seeing. Deep and moody.
The fur doesn't stop at the collar either. Colorful puff jackets are a surefire way to stay warm and stand out – way out. These styles can exude polar bear chic or cotton candy.
Need some more inspiration from the animal kingdom? You might be decked out in a feather accented dress for your next cocktail party. Looking fly.
Decadent Details
Fringe is back from the edges – and the '20s – and into the modern mainstream. The fun, flowing tassels are sure to shake the rust out of your wardrobe as a hem detail or full feature.
There's a certain cohesiveness to the wild patchworks coming down the runways straight out of the '90s. This is where that vibrant color and kinetic style comes back into play. It almost shouldn't work, but it does.
Vibrant colors may be in across the spectrum, but they're out with plaids. Neutral is the way to go here; neon plaid already had its day.
Future Looks
And finally, even with all these vintage looks rocking the runways, we're still seeing some trends towards the future. Metallic golds and silvers abound. It won't be long until we start seeing sexy space suits.
You forward thinkers out there might like to know that slogan fashion is still roaring. When you really need to speak your mind or state your philosophy, slogan tees and slogan knitwear still have something to say. Just make sure you know what your clothes are saying before you step into the world.
Fashion is a hard to tame beast sometimes, but throw on a few of these styles and you're sure to make your mark this season.