Blog
What To Wear In The Caribbean
With the cold approaching, you might be looking to hotter climes to spend your holiday season. If the Caribbean and other tropical paradises are on your radar, here are some tips on what to wear – and what not to.
Don't Forget The Obvious
Trendy one-piece suits have been making waves this season with halter-like top cuts and playful tassels. Some designers have gotten even cheekier with revealing thongs and see-through fabrics. Whatever your body type, there's a hot look for everyone.
And if you've just got to hide that skin, there are plenty of chic cover-up options too. Flowing sarongs, fringed ponchos, and breathable dresses have been popping up in everything from graphic prints to tie-dye.
Accessorize
A sun hat and sunglasses will make all the difference.
And don't forget some jewelry:  chunky silver bracelets or big rings can add just the right flair to a beachy dress.  An extra pair of sunglasses, try oversized sunglasses for the beach/pool and a sleek pair for evening cocktails  Beach vacation clothes fold up tiny in your suitcase, so don't be afraid to bring that extra pair of wedge sandals or that long flowy dress.  You never know what you'll be in the mood for, and always good to have an option or three!
No Footwear Faux Pas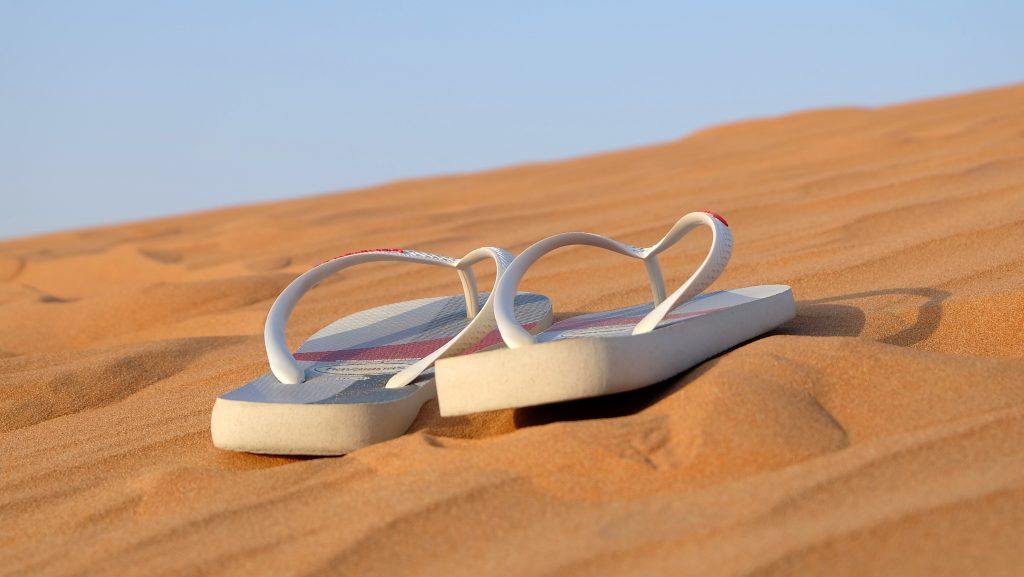 Sandals and flip-flops? For sure. There are plenty of fashionable options to protect you from the hot sand while still looking sharp. Check out these slide denim sandals from Stella McCartney or these flower-print Guccis.
Remember, the devil is in the details so pack smart and think about jewelry, shoes, bags, and glasses that will work with a number of outfits. You'd actually be surprised how many of your pieces will work with different looks. Funky heeled flipflops work just as well with a bathing suit as they do with cool shorts and a halter top or a long loose fitting patterned dress. Just make sure your choices are deliberate. I fully believe you can fashionable anywhere and all it takes is thinking about your choices, so my advice, unless you are going hiking, leave the "outdoorsy just rolled out of bed stuff" at home.  Bring some fashion to the beach!